LIVE Assistant
LIVE Assistant is an automated helper for seling products on Facebook Live. LIVE Assistant is the extra set of hands you need during a live sale, that is always available!

Often you may not have an assistant for your Lives, so Live Assistant is that always available assistant managing & recording all your sales.

Tracks Claims, Wait Lists, Multiple Quantities up to 30 and even manages when customers Pass and hands claims automatically to next in line.

You can customize all of the responses Live Assistant makes to your customers to follow your rules with your personality. Includes opening comments, multiple claim win responses, passing and even a open keyword you can customize how it's used.
Instead of searching comments for Solds, you have a real time dashboard showing who is claiming, who are the runner ups. Presented in a LARGE FONT for easy reading from presentation distance. You can also tell how long you have been online and how many items you have sold.

Quickly select quantity (up to 30), Items & Variations your selling in real-time. If you have 1-30, you can offer them all up for sale at once and we will track per customer claims. Choosing Style & Size cuts invoicing time in half for medium to large sales with less invoicing mistakes.

Sales History lists claims, qty, item and runner ups and can be exported. Live Commenting automatically records Lives in Real-Time for Assistants to use during the Live or after for quick searching/scrolling freely through all comments.

Responding For You!
Take the stress out of multiple simultaneous claims. LIVE Assistant runs on the Facebook Servers and sees the millisecond a claim comes in and efficiently and fairly determines the claim-winner and announces the order so you do not have to. Solds and Passes are all tracked and managed so you can focus on selling and entertaining your customers!
Solds can be easy to miss in a stream of conversations and scrolling back causes sales momentum to be lost. Now you can have a real-time dashboard showing all Sold items with who claimed them. Know even before the rest of your customers when someone claims an item. You also will have a time clock on how long you have been live and how many sales you have.
Have more than one of an item to sell, just set our Quantity selection in real time so you can sell up to 30 of the same item and Live Assistant writes down all that have successfully claimed. Adding Item and Variance during your Live and now at the end of your Live you have a history list stating the how many claims they have, customer name, quantity purchased per item, item name and variance. Now you can cut your invoicing time in half without touching the inventory until it's ready to ship
Have your own unique items & variants? Talk to us and we will help you setup your own custom list for your Lives.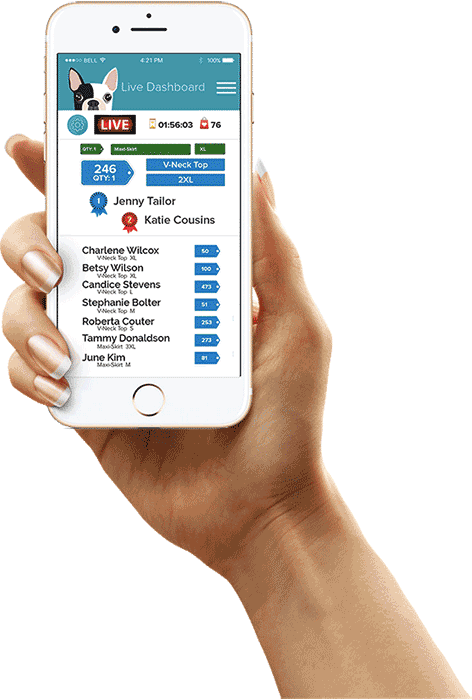 LIVE Assistant Dashboard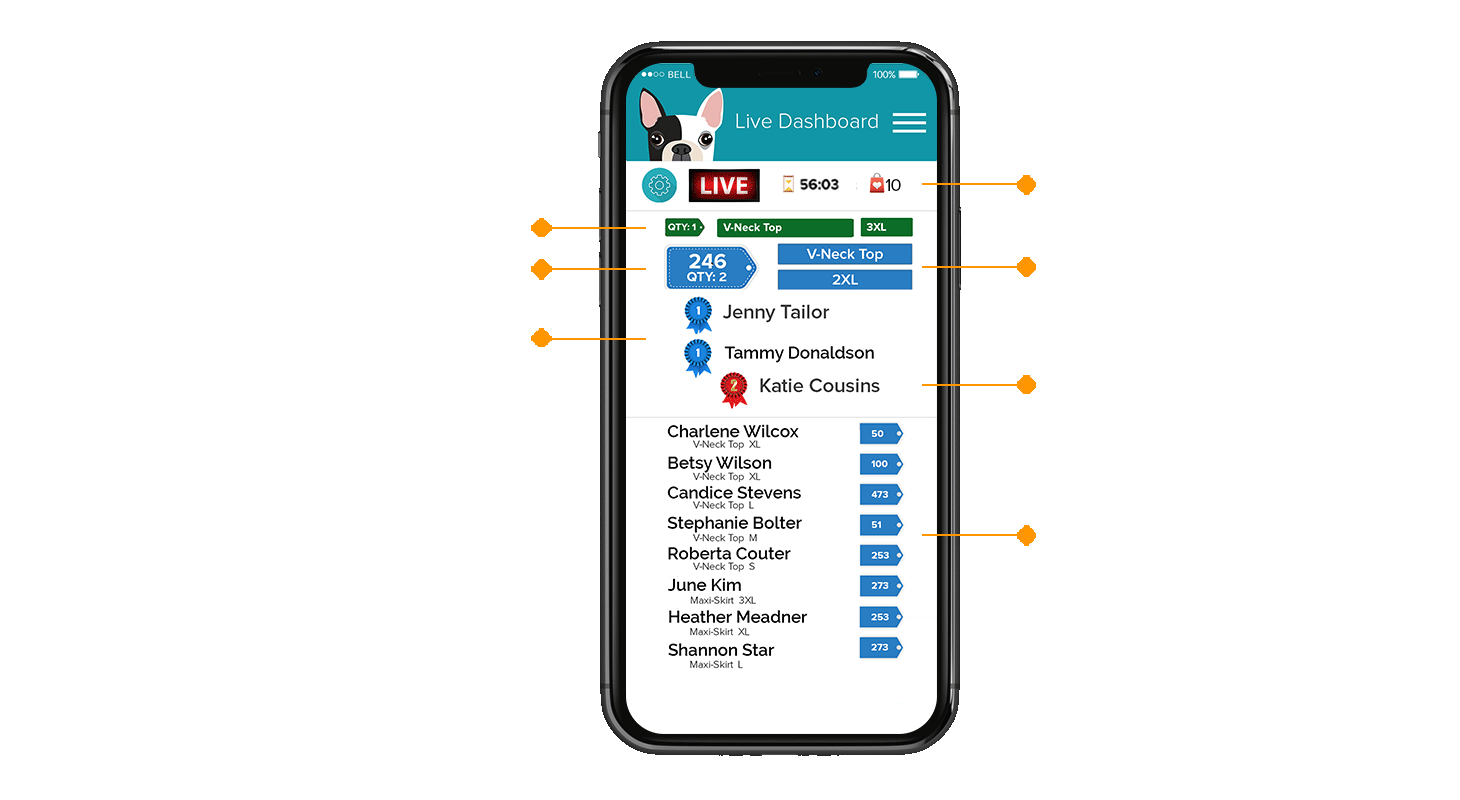 LIVE Commenting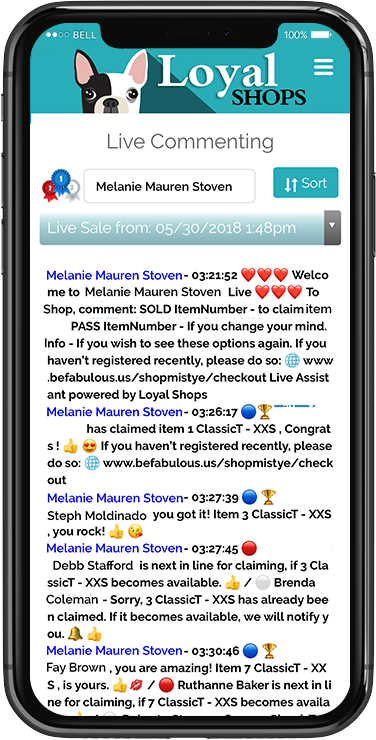 LIVE Assistant Sales History
When you finish a Live, your tired from being ON for your customers! We get it!! Then you realize you need to invoice so you can convert those claims into real sales.
By using our Quantity, Items & Variations Quick Selections during your Live, you finish your Live with a Sales History that accelerates Invoicing. Sorted by customer with each purchase they made. No longer do you need to dig through the SOLD Pile to Invoice! No more accidents of invoicing someone for one item, only to find they claimed two. Just look at your Sales History to see how many items they ordered, what they ordered, what variation and who else is on the waitlist. Start with customers that bought multiples and check off each item when you invoice it from your invoicing software. You even have a place to mark that you shipped the product.  Once you get through the multiples, just pull each single and invoice.  No more alphabetically sorting before invoicing.
If someone passes or doesn't pay their invoice, The blue down arrow will show you the next in line that wanted that item, just click down, see who it was and ask/invoice them. You did the work to sell the item, we help you accomplish that with less effort and time.
Run Live Assistant overnight and the next day on your posted Live or Speed Video. As more people claim, they will be notified by Facebook Messenger of their claim win in real-time. Also, those extra sales will show up here in your Sales History. No more watching your own videos trying to see if there were more claims!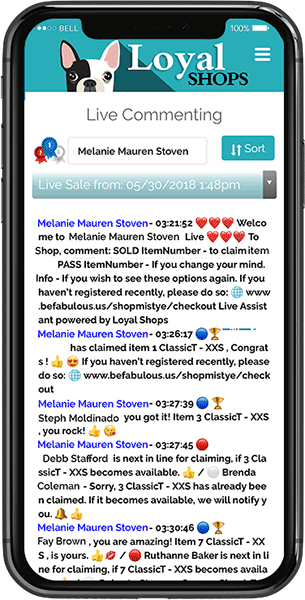 Additional LIVE Assistant

Shop Live Notification
You can setup Live Assistant to automatically send out your Live Description & a shortened deep Live Link via Loyal Shops Texting Service.
We even shorten the Facebook default 62 character link to approx 12-14 characters leaving around 147 characters that will include your Live Description.  This is a Deep Link that automatically opens their Facebook applications and takes the customer directly to your Live.

Live Commenting
Scroll through all your LIVE Comments without any annoying, click here for more buttons. Search is really fast so you can find any word, all comments from a customer, all Live Assistant Responses, a specific claim number, etc immediately.
Here's the best part, the comments can be viewed in real time while the Live is still going. If you have an assistant helping you locally or remote, LIVE Commenting is incredibly handy for the assistant to see all the SOLD's in one place off their phone, tablet or computer. They can scroll back or search for any topic or number as well.

Shop The Replay & Speed Videos
When your Live is over, Live Assistant can stay on the job. Live Assistant can be left running and it will switch from LIVE to Shop the Replay mode. Claims are still being tracked and show on the Live Dashboard. In addition, we will comment back in the stream and so your customer know they got the item, we Facebook Messenger them that they won the claim for the item. This instant feedback will drive more sales through your Shop The Replay sessions.
BTW, Did we tell you that LIVE Assistant works on Speed Videos as well? It certainly does, so just tell your Speed Video customers to claim with your claim word and number like LIVE Video and Live Assistant will FB Message them back on claim wins.

Customizable Responses
LIVE Assistant is very configurable. You can have up to 3 Claim Winning words. You can change the Pass Keyword as well. Put any web based sign-up registration in one of the claim responses and see that clickable link drive up your registrations and save you time & money! We even give you a custom keyword that you can have it comment out whatever makes sense. Maybe its's warranty, or exchange policy or care instructions & registration information. Whatever it is, you can customize it and any customer that mentions that keyword during the live, and that information will become a live stream comment.
Drop in a splash of personality and color with Emoji's. Have your responses really stand out with colorful Emoji's. As the claim responses can be completely customized, why not drop in some color and emotion so they truly become your "YOUR LIVES"!
Choose The Best Plan For You
Loyalty Rewards Pro
Digital Punch Card - Buy X, get gift free, optional
AutoInvite & AutoPunch
Auto Shopper History & Notes & Gift Expiration
Returns/Giveaways/Gift/Credit Management
Email Your Shoppers (10 times per week)
Business & Join Your Team Webpages w/Video

Texting Fully Included - 50 Free Msgs/Mo

LIVE Assistant Fully Included

Texting Shop Live Notifications

Texting - Per message bundle discount
UNLIMITED Shoppers
7-Day FREE TRIAL
$14.99/month
or $149.99/year
Texting
SMS, SMS + & MMS Messages
50 FREE Messages Monthly
No commitement, pay for what you send
Automatic volume tier discounts each month
No Subscriber Limits
Free Keyword
4 Smart Lists
Text Keyword, Web Form & Email Blast Opt In
Opt-in Import with Prior Express Written Approval
Customer Web Form Opt In & List Management

Email Your Shoppers (6 times per week)
UNLIMITED Shoppers
No Commitment
Pay Per Message
$0/month
Bridge
Synch your Bless Store to FB Bus Page Albums
Album Drops to Wall
Personal Shopper Emails
Drip Inventory to Wall
Style & Size Lookup
Runs In the background - 24/7 Cloud Based

Texting Included - 50 Free Msgs/Mo

Email Your Shoppers (6 times per week)
UNLIMITED Shoppers
No Commitment
Pay Per Message
$9.99/month
LIVE Assistant
Live Sales Bot for Facebook
Claim Tracking & Rankings with Passing
Customers Claim & Pass Responses
Configurable Claim Words & Responses
Multiple Quantity & Item/Variance Tracking
Realtime Comments Recorded & Searchable
Sales History For Easy Invoicing

Email Your Shoppers (6 times per week)

Texting Included - 50 Free Msgs/Mo

Texting - Shop Live Notifications

Texting - Per message bundle discount
UNLIMITED Shoppers
7-Day FREE TRIAL
$9.99/month
or $99.99/year
Loyalty Rewards Standard
Digital Punch Card - Buy X, get gift free, optional
Shopper Notes & History
Returns/Giveaways/Gift/Credit Management
Auto Gift Expiration
Email Your Shoppers (6 times per week)
Business & Join Your Team Webpages

Texting Included-50 Free Msgs/Mo

Texting - Per message bundle discount
Up to 1000 Shoppers
7-Day FREE TRIAL
$9.99/month
or $99.99/year
Get In Touch
We are here to help you grow your business!